MTS Offers Multisensor Systems UK make Online THM (Tri-Halomethane ) Monitor which provides measurements of THMs at low concentrations in Drinking water.
Regulations limiting the levels of Disinfection By-Products (DBPs) such as Trihalomenthanes (THMs) in drinking water have made the ability to measure DBP levels throughout the distribution network essential. Multisensor's MS 2000 THM analyzer provides that facility, efficiently and accurately.
Measuring Total THMs with an accuracy of +/-10 ppb, the MS2000-SYS provides the confidence that is needed in a process control instrument which is vital in meeting regulatory and legal requirements.
It is designed to:
Analyze THMs post treatment
Monitor THMs in the distribution network
Monitor THMs post-chlorination for enhanced process control
Calculate THM Formation Potential (Optional)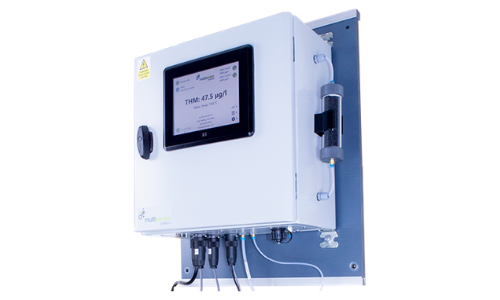 High Reliability
Low Maintenance costs
No reagents
Field Proven technology
Wide communication options
No requirement for additional equipment or processes
Very Accurate
Simple power requirements
Minimal Servicing and calibration
Protection of the drinking water network
Controlling THM reduction processes
Regulatory compliance guidance
Monitoring of swimming pools